PROFESSIONAL PARTNERSHIPS:
BUILDING VALUE THROUGH BEAUTIFUL WORK
Founded in 1964, Tosca Tile Limited is the industrial, commercial and institutional tiling and flooring contractor of choice for demanding and prestigious projects throughout Southern Ontario. Known for its professionalism and expertise, the highly experienced Tosca Tile team works closely with general contractors and clients to provide the right solutions for projects involving marble, granite, tiling and flooring products that are beautiful and functional while provides lasting value.
With our decades of experience, specialized knowledge, problem-solving ability and professional jobsite management (including a highly regarded health and safety culture), you are assured of having the job - no matter how complex - completed to the highest level of satisfaction. Tosca Tile promises excellence and delivers it.
FEATURED PROJECT : THE PERIMETER INSTITUTE OF THEORETICAL PHYSICS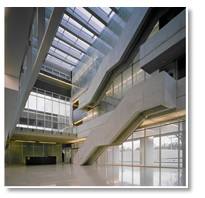 Where: 31 Caroline Street, Waterloo, ON
Client: Ball Construction
Start: August 2010 Completed: September 2011
Scope: Installation of all sheet flooring, stone, tile, carpet tile in building
Challenges: First Gold Seal Managed project in Ontario. Material was high end requiring additional handling precautions.
Awards: April 2012 GVCA Building Excellence Award for Tosca Tile's contribution